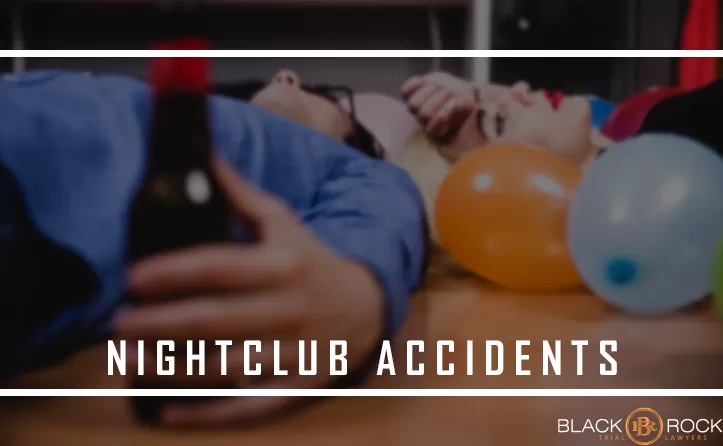 Nightclub Accidents Lawyer
Nightclubs are supposed to be hotspots for people to relax, dance and have fun. Millions of people go to nightclubs for entertainment and enjoyment. However, unfortunately, there are times where people get hurt in these clubs due to negligence, lack of security, property defects and severe intoxication. These businesses can pose a high risk of accidents and injuries. Allowing these places that can hold hundreds of people be in small and confined spaces can be very hazardous.
Here are a few examples of what type of injuries can occur:
Broken bones or torn ligaments from falling or slipping
Bruising
Cuts and Punctures
Fire/Burn Injuries
Fracture bones
Head Injuries and Trauma
Hand and Arm Injuries
Internal Injuries such as Food & Alcohol Poisoning
Lacerations
Muscle and Ligament Injury
Neck Injuries
Spinal and Back Injuries
Traumatic brain Injuries
This only a few of the problems you must deal with and may be left wondering:
Who Can Help Me?
A: We can.
How Quickly Can I Receive Help?
A: Immediately. Call Us Now. We are 24/7.
How Can My Child Or Myself Receive Medical Treatment?
A: Immediately but Call Us to Explain.
What Will It Cost to Hire A Lawyer?
A: No Upfront Cost.
Follow these 3 steps:
Step #1: Take Immediate Action
Contact us, 24/7, for a free Nightclub Accident consultation guaranteed with the firm's personal injury attorney.
We guarantee that in your first consultation with the firm's personal injury attorney we will explain the entire process of handling your Nightclub Injury case and answer all of your questions.
The consultation is guaranteed to be scheduled immediately with our personal injury attorney to discuss your Nightclub Injury (at no cost).
We offer consultations over the phone, in the firm's office, at your house, hospital, or any other convenient place.
Click here to get detailed answers to the most frequently asked questions related to Nightclub Accidents.
STEP #2: WHAT YOU NEED TO KNOW
It's critical to take pictures of your Nightclub Injury and try to get witness statements to make sure we preserve the evidence that caused the injury. Along with that, you need to report the incident to the club owner or manager.
We need to immediately file a claim with the General Liability insurance to preserve your rights.
We need to immediately request any video footage that may have recorded the incident.
Almost all businesses and commercial property have General Liability Coverage which covers this type of claim. You typically see at least $1,000,000.00 in available coverage for personal injury claims.
Even if you don't have health insurance, you can still be treated by a qualified medical doctor through what's called a "Letter of Protection".
Although the statute of limitations to file a lawsuit is two (2) years from the date of the injury, you can damage your claim by not immediately receiving medical treatment for your injury or having gaps in treatment.
You do not pay any money upfront to retainer us as your Nightclub Accident Personal Injury attorney. You only pay if you receive compensation at the time the case is settled.
Once you complete medical treatment for your injuries, we value your case and submit a comprehensive pre-suit settlement demand.
If the insurance company does not make a fair and reasonable offer, then we will file a lawsuit.
At no cost, we will assist in coordinating the repair or replacement of your personal property.
STEP #3: DAMAGES YOU MAY BE ENTITLED TO RECOVER
Payment of Current and Future Medical Provider Bills & Costs
Future Medical Care Treatment
Past, Present, and Future Loss Wages
Property and Personal Damages
Physical Pain & Suffering
Emotional Pain & Suffering
Punitive Damages (under special circumstances)
Loss of Consortium
And Other Damages as Allowed by the Law