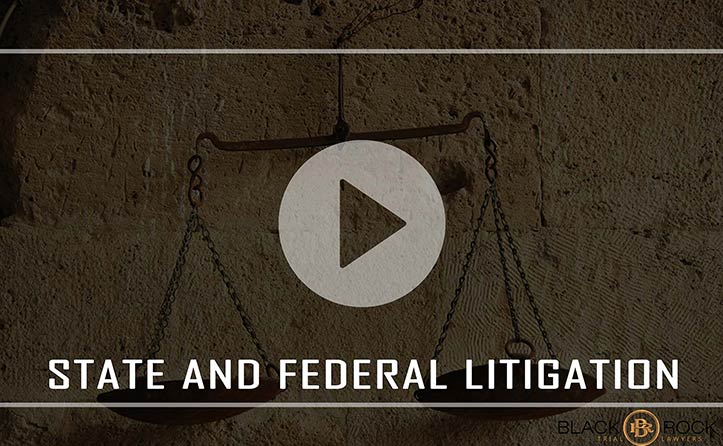 STATE & FEDERAL LITIGATION
We are trial lawyers and litigating cases, simple or complex is what we do for people or in some cases businesses.
The U.S. judicial system is comprised of State and Federal Courts where lawsuits are filed to right a wrong. Who decides what is right and what is wrong? In some cases, judges decide that, referred to as bench trials.
In other cases, it is a group of your peers, referred to as a jury, decides the facts of a case and ultimately the outcome. Our team of trial lawyers file, defend and try cases in State and Federal court.We also take cases by contingency to even the playing field.
The firm handles simple to complex litigation cases against anyone, including multinational corporations. We have represented clients against corporations such as:
Bank of America
Coke
Cracker Barrel
Cushman Wakefield
First Watch Restaurant
JP Morgan CHASE
Marriott
Sears
Southwest Airlines
Target
Wal-Mart
The type of cases we handle include:
CoVid-19 Litigation
Business Interruption Insurance Coverage Denial
Life Insurance Coverage Denial
Property Damage Coverage Denial
First Party Insurance Lawsuits
Breach of Contract
Business Dispute Litigation
Business Torts
Commercial Litigation
Contract Dispute Litigation
Civil Theft
Defamation
Declaratory Judgments
Employment Litigation
Fraud in the Inducement
Insurance Litigation
Injunctions
Misrepresentation
Punitive Damages
Real Estate Litigation
Tortious Interference of a Business Relationship
Unfair Deceptive Practices
Unjust Enrichment
Wrongful Foreclosure
Black Rock Trial Lawyers are willing and able to take a case from intake to a jury trial and seek the maximum legally permissible financial outcome.
How much does it cost to hire the firm to represent you?
Depending on the case, we offer contingency arrangements, predictable flat fee retainers or hourly retainers.
In some cases we will take a case on contingency and cover all the upfront costs of litigation. This means that we do not receive compensation for our legal representation unless we win your case. Winning your case means either settling before filing a lawsuit, during a lawsuit or obtaining a verdict at trial.
In other circumstances we structure retainer contracts as a flat fee amount. This takes the cost unpredictability of litigation completely out.
If we are unable to truly gauge how much time a case will take to litigate, we will structure an hourly retainer.
Confidential Consultation
Contact us 24/7 at 800-346-7752 to schedule a confidential consultation regarding your potential case.